It's release day for Hearts of Fire, and I am pleased to be able to help celebrate this beautiful book.  Below you will find an excerpt, teasers, playlist, trailer and giveaway, as well as my 5 Star review.  There's a lot packed into this tour, so sit back and enjoy!
Hearts of Fire by L.H. Cosway from Becca the Bibliophile on Vimeo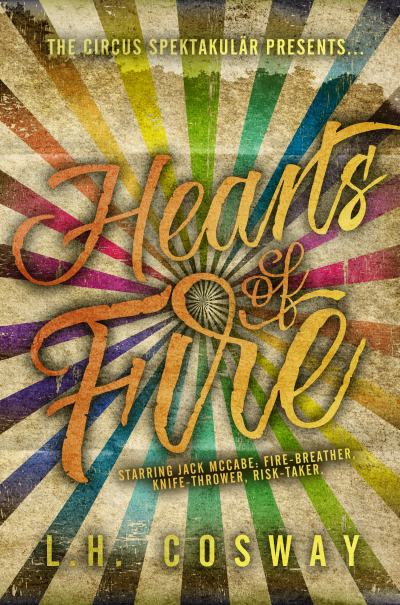 The Circus Spektakulär is proud to present Jack McCabe: Fire-breather, knife-thrower, risk-taker.
My uncle lied. I never died.
I breathe fire, eat the poison that almost killed me.
Crowds come to see me night after night. Men for the spectacle, women for the thrill. I'm an oddity to be stared at and desired. With each flame I spit, I risk my life.
I wear scars on my body that will never go away, but the scars inside my head are far more difficult to overlook.
My brother doesn't know the truth, and if I have it my way, he never will.
Life was going exactly the way I'd planned until Lille came along. She wanted to run away with the circus, have an adventure, but this world was never meant for her.
I try to keep her safe, because she doesn't know the dangers that are out here on the road. She doesn't know the monsters that lurk behind the bright lights of the ring. In truth, I could be considered one of them.
We were fashioned from different cloths, never intended to mix. So I watch her. I try not to touch, even when her eyes invite me.
Join us in the Spiegeltent and let us give you a show. Allow my Lille to draw a picture for you in paint and sweat and skin.
The truest love is always the hardest to let in.
Amazon US | Amazon UK | B&N | iTunes | Smashwords
---
★ ★ ★ ★ ★
Definitely one of my favorites of the year!
L. H. Cosway has not only left me speechless, but without the ability to form cohesive thoughts with the release of Hearts of Fire!  I wish I could put into words how much this book moved me.  The voice was so fluid, I felt as if I was a beat within a song and was gliding along each bar.  True to this author's style, her characters are unique and thoroughly developed.  And within this book, there were many characters.  I am amazed at Ms. Cosway's ability to develop such unique and intriguing  stories.  The only thing similar in her books is that each one has unique characters.  There isn't the feeling of,  "Oh, I've read that before from this author."  because you haven't.
The first thing we read is the endearing dedication.  It definitely set the tone for the book.  Her genuineness shows in her writing.  Her characters are real and her stories are brilliant!
This beautiful story is about Jack McCabe, Jay Field's brother from Six of Hearts.  He is haunted by his past and his tragic story was heartbreaking. Feeling dejected, and not wanted, Jack was a loner.  He had an inability to believe anyone could or would love him, so he kept all relationships and interactions purely surface level.  He is a Fire-breather, knife-thrower, risk-taker for the Circus Spektakulär. He astounds and mesmerizes all that watch him.  He is at ease among the flame.  It is his home.  It is his comfort.  It is his arousal.  
He first meets Lille in the restaurant she's working.  He is drawn to her smile and openness.  When she is offered a job at the circus as a face painter, it was her naive trust that he feared would cause problems for her.  
"You think it's going to be all fun and games, running away with the circus, but it's not.  It's hard work with little sleep and shit pay.  It's for people who don't have homes and mothers who worry about them.  It's not the life for you."
21-year-old Lille, not one to be deterred, sees this as an opportunity to get away from her boring life and her controlling mother and live out the adventures on her bucket list.   The thrill and excitement pull her to the circus, to others like her. She's artsie and different and those that work the circus are too.  Besides, she had noticed Jack also, when he came to eat at her restaurant.  The thought of being around him was as alluring as the circus.
"His movements were like dancing.  He ran the fire along the length of one arm, and it blazed across his skin before flickering out.  He licked at the other flame, then brought the entire torch into his mouth and swallowed the fire."
These two were complete opposites on paper, but so much alike on the inside.  Both craving more, needing acceptance and wanting to be loved.  
Reading Jack's letter to his brother c.r.u.s.h.e.d. me!  I cried for him.  I wanted to be the hero in his story and take away all of the bad and give him only the good. But, I wasn't needed for that, because Lille was giving him exactly what he needed, day in and day out with her understanding, her caring, and loving. They learned from each other.  Where she trusts too easily, Jack didn't trust.  She showed him he could trust her and he showed her whom to trust.  
The more time they spent with each other, the more they wanted each other. For Jack this was frightening because he didn't want to lose who they were to each other, what she was to him.
"With other women I can restrain myself, but with you, I'm not sure I could.  That's why it will never work between us.  The way you look at me, Lille, like you'll let me own you, all I have to do is say the word.  You don't want to be owned by me."
What made this book even more enjoyable to me was listening to its playlist on Spotify.   Without fail, I listen to music while I read.  But, there is something special, something magical when listening to what the author finds special as it relates to the book you are reading.  The songs on the list put me in the right frame of mind and emotion as I read.  
As always, the side characters round this book out.  Giving support where needed and giving us a glimpse at what is to come – KING!  I can't wait for his book!
A story about reconciliation, true love and hope, House of Fire has planted itself on my Favorites of 2015 list! 
"God, you're perfect, too perfect.  you make me feel so wretched.  I want to consume you, steal your light and make myself a little bit more.  You're more, Lille.  I want to be more, too."
---
Jack didn't even announce that he was starting when he stood at least ten feet away from me, flipped a knife in his hand, caught it, then lunged with his whole body and flung the knife right at my head. I squeezed my eyes shut, and a hollow thud sounded at my ear where the knife had, thankfully, hit the board. Sounds of nervous excitement and clapping came from the audience as Jack continued his assault on me. He moved his body with the kind of skill that only comes from obsessive practice.
Adrenaline drowned me, my chest rising and falling rapidly.
A small squeak of fright escaped me when he threw a knife at my hip and it barely missed. In fact, I could feel the hard edge of the steel pressing against me. I was surprised it hadn't cut into the fabric of my coat. Jack prowled around the stage, gaze on me, calculating his next throw. Everywhere his eyes looked, I felt positively laid bare. Molested by disinterest.
I might as well have been a sack of potatoes for all the care he showed as to whether or not he might cut me. Deciding I couldn't take any more, I kept my eyes closed until it was over and all six knives had been thrown.
Thud.
Thud.
Thud.
When I finally opened my eyes, Jack was standing before me, unbuckling the belt that held me in place. I didn't move even after I'd been released, still trying to come to terms with the terror I'd just endured. All of a sudden, Jack McCabe was more scary than sexy.
"That was a close one," he said as he pulled out the knife that had landed just below my ear. I glanced to the side to see a tiny lock of my hair fall to the stage floor. Oh, my God.
"You cut off my hair," I gasped.
"Only a small bit. Don't worry — I didn't leave a bald patch." He chuckled darkly.
I didn't know what to say, but I was momentarily appalled at how cavalierly he was taking all this.
"I could sue you," I said, and then instantly grimaced. I sounded like my mother. It was only hair, after all.
He leaned in, and I thought I saw him bare his teeth for a second. "Go ahead, pumpkin."
---

*OVER* a Rafflecopter giveaway
The author is giving away (open internatonally):
1st prize: Hearts of Fire tote bag ** Signed copy of Six of Hearts ** Signed copy of Hearts of Fire ** Hearts of Fire pocket mirror ** 2nd prize: Signed copy of Hearts of Fire ** Hearts of Fire pocket mirror
---

L.H. Cosway has a BA in English Literature and Greek and Roman Civilisation, and an MA in Postcolonial Literature. She lives in Dublin city. Her inspiration to write comes from music. Her favourite things in life include writing stories, vintage clothing, dark cabaret music, food, musical comedy, and of course, books.
Facebook | Twitter | Website | Goodreads
---
♥READ THE BOOK THAT STARTED IT ALL!♥
Six of Hearts
Amazon US | Amazon UK | B&N | Kobo | Smashwords | iTunes
This slideshow requires JavaScript.
Related Posts