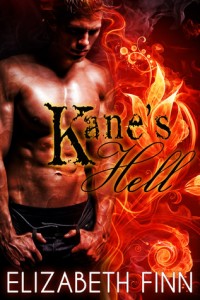 Kane's Hell
by
Elizabeth Finn
Published
by
Elizabeth Finn, Self-Published
on May 1st 2015
Pages:
320
Genres: Contemporary, Erotic
Review Copy Provided By:
Elizabeth Flinn

Goodreads
AMZ US
Kane and Helene were the best of friends until a nightmare devastated them… Hopes were destroyed, dreams shattered, a budding teenage love torn to pieces. Eleven years later their lives are nothing like they once were. Time has changed them … and not for the better.

Helene is smart, driven, and accomplished—her education and achievements a smoke screen hiding the frigid and fragile child wounded long ago.

Kane is equally obsessed with his coping mechanisms—fighting … drinking … screwing … compulsively destroying himself one vice at a time.

When their paths collide again, their past becomes an obstacle no coping mechanism in the world can protect them from. But confronting the past so they can heal in the present is no easy task. Can Kane reach Helene and recapture what used to burn so warmly between them, or will his own self destructive demons pull her into his hell?

A woman determined to look forward. A man always looking back. A love desperate to be restored.
I was provided a review copy; this did not influence my opinion of the book.
GRITTY, RAW, STEAMY
Elizabeth Finn does not play games!  Her writing is raw, gritty and very steamy.  She tackles subject matter that will make you squirm, read with one eye closed and cry tears alongside her characters.
With Kane's Hell, Elizabeth gives us two character's with a tragically violent past who are attempting to move on with each other. View Spoiler »The subject matter may not be appropriate for all readers, as there is graphic sexual content as it relates to a rape incident. « Hide Spoiler This was not an easy read.  This was a tragic read.  It was emotional and heart-wrenching at times, but it was also fantastically written.  I was in shock at the end that the author was able to turn this story into a second chance romance with an HEA.
Life long friends, Kane and HELL, Helene, had grown up together, flirted their way through high school, and probably would have had a future together.  However, one tragic night changed the course of their futures changing what could have been into only a dream.
These two lived two lives, before the incident and after.  It was the after that broke my heart for Kane.  He seemed to have the hardest time coping with that night and the events that followed.  He was drowning in guilt and memories.  At first I had an issue with this, that he seemed most affected.  But I think had the author shown us how Helene was feeling or had dealt with everything, this book would have been too heavy of a read. Instead, Ms. Finn gives us a strong Heroine in Helene.  Someone who made an identity for herself.  I loved these two characters.  In the end, it was each other that they needed, they found healing in one another and with each other they fought the monsters and demons from outside and within.
Related Posts