Nuts
Series: The Hudson Valley,
Also in this series: Cream of the Crop, Buns
on October 20th 2015
Pages:
320
Goodreads
AMZ US
B&N
***From New York Times bestselling author Alice Clayton, the first in a brand-new romance series telling the humorously sexy tale of Roxie, a private chef who gets a taste of love—but is it to stay, or to go?***

After losing almost all of her clients in one fell swoop following an accident involving whipped cream, private chef to Hollywood's elite Roxie Callahan gets a call from her flighty mother, saying she's needed home in upstate New York to run the family diner. Once she's back in the Hudson Valley, local organic farmer Leo delivers Roxie a lovely bunch of walnuts, and soon sparks—and clothing—begin to fly. Leo believes that everything worth doing is worth doing slowly…and how! But will Roxie stay upstate, or will the lure of West Coast redemption tempt her back to Tinseltown?
I was provided a review copy; this did not influence my opinion of the book.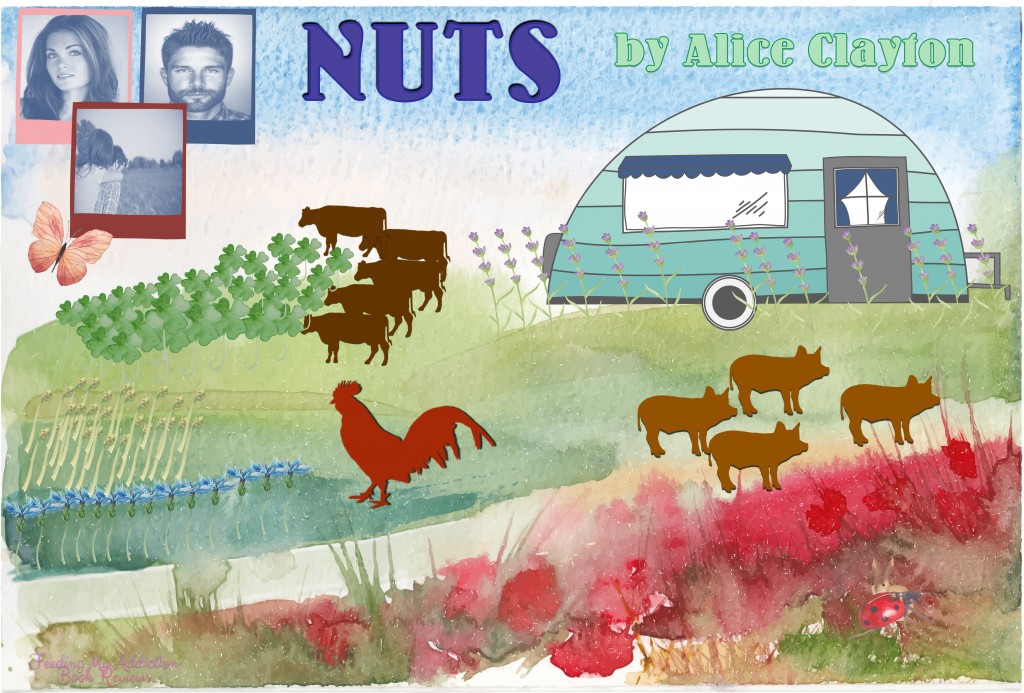 I ABSOLUTELY LOVED IT! Alice Clayton brought her A game when she wrote NUTS!
There wasn't one thing I didn't like! Not. One. Thing! From the superb writing to the details of the food that made me so hungry as I read, to the beautifully, perfectly scripted characters, Clayton had me laughing, left my heart full and a permasmile on my face!
This is how Rom. Com. Is done! The comedy wasn't forced, it just was. It was natural, much like the dialogue. There was so many laugh out loud moments that I found I had tears streaming down my face.
Roxie Callahan left her hometown after high school. Feeling closed in and needing to experience life outside of a small town, she heads off to culinary school in California. When we meet her, she is a personal chef to the rich and famous. Things aren't going as planned and when her mom calls her to come home and temporarily run the family diner, Roxie hesitantly agrees. But only for the summer, that's the deal, she insists on returning to her job and California, when the summer is over. Ever helpful, before her mom left on her trip around the world, she shared some advice:
❝Use mitts if you're baking; that old oven is testy.❞

❝Use citronella oil if you're in the woods.❞

❝Use sunscreen if you go swimming in the lake.❞

❝Use a condom if you have sex with a farmer.❞
Leo Maxwell is one sexy, sweet-dirty talker. Did I confuse you? Well, see, his dirty talking is masked in sweetness and innuendo and you know what he's saying even when he's not saying it! This man has a history (all of which I am not going to share, because ya need to read it), mixed with both pain and happiness. Leo is the local farmer and brain child of Maxwell Farms. He provides fresh produce and meat (ha!) to the locals.
Neither of these two are looking for more than a summer romance, she wants to head back home and he, well, he has other obligations that keep him from getting involved. When these two are together, the banter flies, as do the clothes, and bodies (literally, someone is always falling or tripping) producing sexual chemistry that is sure to make you swoon and fan yourself.
❝Did you know your eyes change color?❞ ❝Did you know they go full green? Right before you come?❞ ❝Look at that, they're turning even more green by the second.❞
They are the yin to the other's yang, what she hates about the small town he loves, the thing she finds as negative he finds charming.
❝I'm not big on small towns❞ I replied. ❝Everyone knows each other's business. Everyone knows each other's history.❞

❝They watch out for each other,❞ he insisted.

❝They gossip about each other,❞ I corrected.
Soon, Leo, and even the small town with its nosy people begin to grow on Roxie and she finds she has quite the following. Is it worth staying and risking your heart? Teaching cooking classes and baking cakes has made her quite happy. Can she leave that behind and go back to the uncertainty of California?
One of the best things about this book, though was the side characters, the supporting cast! OMG y'all HAVE GOT TO MEET Natalie, seriously! She is among the funniest supporting characters I have ever read! I had to put down my Kindle because I was laughing so hard I could not read! She is Roxie's best friend, they met in Culinary school and she lives in Manhattan. She now works in advertising, she is a city girl at heart. She has one weakness – cheese! And when Natalie, Roxie and their friend Clara, visit the local farmers market in Manhattan, we learn that Natalie has a crush on a broody, hot, sexy dairy farmer! EEEEEEE. YOU GUESSED IT, Cream is the next book in the Hudson Valley series. I am not sure I won't be stalking Ms. Clayton until the release of this book. GIMME GIMME NOW!
Related Posts