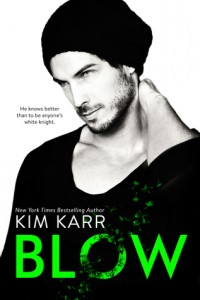 Blow
by
Kim Karr
Series: The Tainted Love Duet #1
on September 21st 2015
Genres: Romance, Suspense
Review Copy Provided By:
Author
2 fatal sides.
1 epic love.
7 days to survive.

They met in the face of danger. They weren't looking for love. They both knew better. But they couldn't stay away, and they fell hard.

He is heart-stopping handsome, fearless—and haunted by deadly ties.

She is breathtakingly beautiful, determined—and in harm's way.

They should have parted. They didn't. They never should have fucked. They did. And now time is running out. One hundred sixty eight hours. That's all that remains. While Logan McPherson fights to save them, Elle Sterling is forced to make a choice that could change everything.

When torn between right and wrong, tainted love doesn't have a chance...or does it?

**Book 1 in The Tainted Love Duet**

❝Blow, just blow, Gabby. Everything will be okay.❞
The prologue fascinated me. I was excited for the ride I was sure I was in for. With Blow, Kim Karr takes us on a 7 DAY journey between two people who are trying to solve the mystery of missing drugs and money as well as the whereabouts of Elle's sister. There is instant lust/attraction between Logan and Elle which combusted into an instant relationship. This normally bothers me and to be honest, it did here, too. But because this book only encompassed 7 DAYS,  it was easy to ignore forget at times, since each day was several chapters my sense of time seemed to disappear. There was so much going on like the mystery and danger for instance, that the focus was not solely on the relationship. But when the two were together, the sex was sTeAmY!
This was told in dual POV and I appreciated that because it gave us background information for our two main characters. I liked Logan. He was a great character. Although he struggled with both sides of his life, he had a strong sense of right and wrong. Elle, however, got on my nerves a bit. She was a little too trusting and willing to do whatever she was told without questioning things. Especially since she was one of the caretakers of her niece. However, she was a badass and loved with her whole heart, so I am anxious to see where Ms. Karr takes her character as the series progresses.
This is book one in the The Tainted Love Duet series, and yes, it does end on a cliffy! Crush, book two is expected to be released November 16th 2015. I need to find out what happens!
Related Posts