Lev
by
Belle Aurora
Series: Shot Callers, #1
on October 10, 2015
Pages:
404 pages
Review Copy Provided By:
Author

Goodreads
AMZ US
From the moment Lev Leokov spots the young woman hiding behind her hair in the middle of the gentleman's club, he can't take his eyes off of her.
For the very first time in his life, he is affected. Having been told his entire life that he can't process or understand emotion, he considers it a big deal.

When Mina Harris gets caught red-handed with a wallet that isn't hers, she falls apart. She's tired, lonely and hasn't eaten in days.

Lev offers her an ultimatum... A nice warm bed, a hot meal and a job, or the cops.

Mina takes her chances with Lev.
After all, a person with nothing has nothing left to lose.

***This book enters the world of the extended Leokov family which are introduced in Friend-Zoned, however, is unrelated... release date TBA**
I was provided a review copy; this did not influence my opinion of the book.


OH Lev… he is such a smooth talker.  While he wishes to be "normal", he blows normal out of the water.
❝They say penguins mate for life.❞ He reached up again and jerked hard at his tie. ❝And I want to be your penguin.❞
Lev is the whirlwind story of Lev Leokov and Mina Harris.
Lev is his brothers enforcer. The one who "handles problems" at the family club. When Lev spies Mina stealing a wallet from his brother, he is shocked to find that Mina didn't take all the money.  Feeling an instant connection with her, he saw another broken soul. Deciding to help, he took her in and gave her a job and helped her back on her feet.
❝I found her, and I was keeping her.❞
Mina is a go-getter, a survivor. She has been homeless for 7 years and until very recently, maintained her integrity. At 24 years old, she is a thoughtful, caring and insightful woman. She recognizes something different in Lev. He seems to be socially awkward, yet extremely loyal and protective. He doesn't process emotions the same as others and she finds she is a calming force to his chaotic thoughts.
❝I would be his rock when his reason floated away. And he would be the person I needed to remind me that I was no longer alone in the world.❞
The perfect example of opposites attract, these two were perfect for each other. Their banter was funny and they shared some tender moments also.
❝I would give anything to be normal. And around you, I feel normal.❞

❝I've never had ordinary. You gave me that.❞
Lev was so sweet and swoon-worthy. He is a great character. The secondary characters were fabulous as well. Nas and Alessio especially owned my heart.
What didn't work for me that ultimately kept this from being a 5 star read? The story began to change for me at about 35%. Situations seemed contrived and forced, and not in keeping with the characters personalities. For example, I viewed Mina as a strong character. But at times, she came across as sulking and juvenile. Even though she is young, 24 years old, being out on your own for 7 years would instantly make you grow up. Also, the repetitive use of "sweetie" was a little much. But that could be just me, as I don't find the term endearing when used to address an adult. Lastly, there were times when things were wrapped up too neatly and easily. I wished for more suspense/intrigue and to experience the characters fighting for what they won.
Clearly, the above wasn't terribly distracting or too bothersome as I still rated Lev 4 Stars!
There's more to come in the Shot Callers series. Who will be next?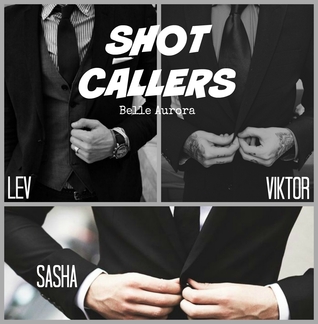 Related Posts