Happily Ever Ninja
by
Penny Reid
Series: Knitting in the City #5
Also in this series: Neanderthal Seeks Human, Beauty and The Mustache, Neanderthal Marries Human, Ninja at First Sight
on January 19, 2016
Pages:
376
Goodreads
This is a full length, 100k word novel, and is the 5th book in the Knitting in the City Series. All books in the series can be read as a standalone except book #1.5

There are three things you need to know about Fiona Archer… I would tell you what they are, but then I'd have to kill you.

But I can tell you that Fiona's husband—the always irrepressible and often cantankerous Greg Archer—is desperately in love with his wife. He aches for her when they are apart, and is insatiable when they are together. Yet as the years pass, Greg has begun to suspect that Fiona is a ninja. A ninja mom. A ninja wife. A ninja friend. After fourteen years of marriage, Greg is trying not to panic. Because Fiona's talent for blending in is starting to resemble fading away.

However, when unexpected events mean Fiona must take center stage to keep her family safe, her response stuns everyone—Greg most of all. It seems like Greg's wish has come true.

Except… not.

When all is said and done, can Greg handle this new version of his wife? Will his irrepressible cantankerousness push her away? Or can the couple find a way forward without either being forced to step back into the shadows?
I was provided a review copy; this did not influence my opinion of the book.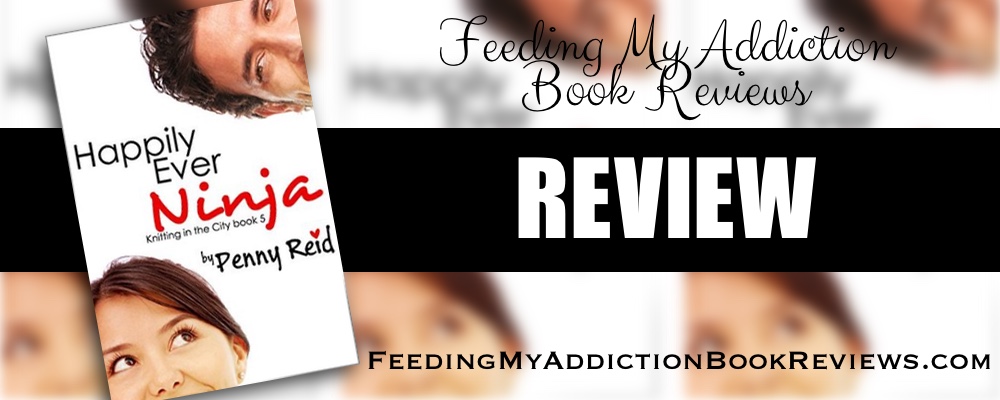 ❝When people are overwhelmed, they can't see past their own campfire.❞
Happily Ever Ninja was passionate and endearing, it was romantic and intense, it was sexy and sweet.
Without doubt, this book is different from others you will have read from this author. It is sexier, it is suspenseful and it is about the troubles of a married couple. BUT… it is also the same, in that the writing is just as spectacular, the characters are just as dynamic and the story is just as incredible as all of her other books.
There are two parts to this story:
What I loved so much about this book is that it is about the troubles Fiona and Greg face as a married couple …a real married couple. Like, the troubles that REAL married couples face. He is a workaholic who, when he is home, he can't find the hamper nor the dishwasher, and she can't let go of her anal-retentive ways, nor her autonomy. They are having trouble coming together as a couple. We see them struggle with life and kids and the stress every day puts on a marriage.  Even a marriage between soul-mates.
I loved this couple. They were perfectly flawed, perfectly loveable, perfectly fit. Their banter was funny and sexy. When they came together as one, my heart melted.
❝My heart keeps discovering new ways to love you,❞
The other part of this story is the suspense. Fiona and Greg found themselves in a dangerous situation, one where working together would be better than working alone; but the question is will they allow the other person to utilize their talents and help? Or will they work by themselves like they have been doing in their marriage.
There was still Penny's trademark humor, but it had a more serious tone than other Reid books. It was heartwarming. But above everything else, this book was incredibly insightful. Reid explores marriage – the ups and downs, what makes it fail and what makes it succeed. In full disclosure, there was a point at which I thought, OH NO, DON'T GO THERE… I was afraid of the direction the book was taking, because I wasn't sure it was necessary. But I held on tight to my faith in this author. Penny Reid will make you think about relationships and marriage after reading this, and for that reason alone, I loved it!
❝Each marriage is a living thing, just as complex as the two individuals within it.❞
Related Posts