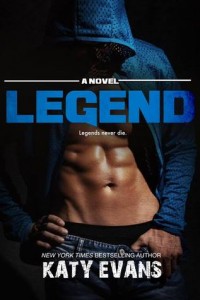 Legend
by
Katy Evans
Series: Real #6
Published
by
Gallery Books
on February 9, 2016
Pages:
272
Genres: Romance, Sports
Review Copy Provided By:
Gallery Books
Goodreads
Maverick "the Avenger" Cage wants to rise to the top and become a legend in the ring. Though he keeps his identity well guarded, he's known on the fighting circuit as the new kid with a chip on his shoulder and a tattoo on his back that marks him as trouble. He's got a personal score to settle with the Underground's one and only Remington "Riptide" Tate.

As Mav trains, he meets a young girl—the only other new person in the town--and sparks fly. When things get heated between them, he finds out she's none other than Reese Dumas, the cousin of Remington Tate's wife. A girl who's supposed to root against him and a girl he's supposed to stay away from.

But Maverick fights for the woman in his heart, and the monsters in his blood. The world's eyes are on them and the victor will go down in history as the ultimate fighting champion; the ultimate LEGEND.
I was provided a review copy; this did not influence my opinion of the book.
❝I want to be a legend. Legends never die. Even if they die alone.❞
This has been a busy week for me. But I could not help stealing a few moments during the day and long into the night for 'Legend'. The sexual tension, the growth of the relationship and total devotion to each other, is what made this romance, perfect for me.
Redemption
After some trouble in her past, Reece is determined to find out who the "real" Reece is. Getting away from her helicopter parents, Reece comes to work for her cousin Brooke and her husband Remy, as Racer's nanny. Getting to travel the underground circuit with her new family, Reece meets another fighter, Maverick at a local gym.
Maverick has something to prove as a fighter and son. He wants to prove he is more than the legacy left to him. If he can just find someone to coach him and a gym to work out in, he knows he can win.
Both Maverick and Reece had something to prove to themselves, to others. They both faced their own demons head on. They struggled, but they fought and found solace and comfort in each other.
❝He looks at me, so deep I feel found.❞
I loved the love story!
❝Lust. It's not soft like the touch of a raindrop. It's not easy like floating aimlessly on the water. It's weighted, and heavy, a spark that catches on the forest of your body. A wildfire.❞
Katy Evans crafted a beautiful love story between spectacular characters. As I read, I would catch myself smiling. I was totally immersed in the world of Maverick and Reece. They were both new to relationships. He never wanted one, and she had never found one with the right guy. Watching them fall in love and get to know each other was heart-meltingly (I'm not certain that's not a word, but it fits!) good. They were perfect for each other.
'Legend' was an excellent ending to the Real series!
Related Posts