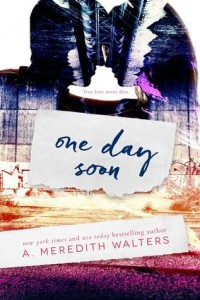 One Day Soon
by
A. Meredith Walters
Series: One Day Soon #1
on February 18, 2016
Pages:
377

Goodreads
He found me in blood and tears.
I stayed with him through darkness and fire.

We loved each other in the moment between innocence and bitter truth.
We were the kids easily ignored, who grew into adults we hardly knew.

We weren't meant to last forever. And we didn't.

He ran away.
I tried to move on.

Yet I never stopped thinking about the boy who had fought to keep me alive in a world that would have swallowed me whole. He was the past that I buried, but never forgot.

Until the day I found him again, years after believing I had lost him forever.

And in cold, resentful eyes, I saw the heart of the man who had been everything when I had nothing at all. So I vowed to hold onto the second chance that was stolen from the children we had been.

Sometimes fate is ugly. Life can be twisted.
And who we are can be ruined by who we once were.

For two people who had survived so much, we would have to learn how to hold on before we were forced to let go.

**Standalone Contemporary Romance**
❝He had been my moon. My stars. My everything when I had had nothing at all.❞
Ms. Walters has an incredible ability to make you fall in love with broken characters. You love them, cherish and root for them. You ache for them. You cry for them. 'One Day Soon' was another such story. It was heartbreaking, depressing and so hard to read. It took me a week to get through because the content was so heavy and my heart hurt so much for these characters.
Fed up with living with her neglectful mother, 16-year-old, Imogen 'Imi' Connor, runs away from home. Not having any money and only the clothes on her back, she quickly realizes she didn't think things through very well. She finds herself amongst other homeless teens and in a dangerous, scary situation. Fortunately for her, quickly coming to her rescue was Yossarian "Yoss" Frazier. Also a homeless teen, who has deemed himself the caretaker, protector and the keeper of the other homeless teens he considers his family.
❝Because of him, I was safe. I was surviving.❞
18-year-old, Yoss's home life had been abysmal. His father was awful and left him feeling unwanted. He had been living on his own, surviving, for many years before he met Imi. He had done what he needed to survive and provide for his friends. It wasn't always pretty, easy or good. But he rationalized his behavior as necessary.
They quickly fell in love with each other. Partly due to their circumstance and both needing to feel loved, but also, because they were perfect for each other.
❝It felt good. To smile. To laugh.
Natural.
Like heartbeats and sunsets.
Happy endings and old movies.
This was what Yoss and I were made of.❞
I can't go into much more detail because I don't want to ruin the book for you. As you read it, you will understand.
I love Ms. Walters writing. She has always been a 'one-click author' for me. If you want a book about second-chance romance and with ANGST, that will have you experiencing a wide range of emotions, 'One Day Soon' is for you!
***I did have a few issues with the book, though.
⦁ ****WARNING: DO NOT READ THIS IF YOU HAVE NOT READ THE BOOK!*****
READ SPOILER ON MY GOODREADS REVIEW
⦁ If I am reading an ARC and there are typos, spelling issues, or editing errors, I am able to ignore them, because I realize in most cases, I am not reading a finished product. But, this wasn't an ARC and there were many issues which should have been taken care of in the editing process. I was shocked by this because I have never run across a book from A. Meredith Walters which hadn't been edited precisely. I found myself getting frustrated which detracted from my reading experience.
Related Posts