Fallen Heir
by
Erin Watt
Series: The Royals #4
Also in this series: Paper Princess, Broken Prince, Twisted Palace, Cracked Kingdom
Published
by
Timeout LLC
on August 28, 2017
Pages:
300
Genres: High School, New Adult, Romance
Review Copy Provided By:
Author
Goodreads
AMZ US
Apple Books
These Royals will ruin you.

Easton Royal has it all: looks, money, intelligence. His goal in life is to have as much fun as possible. He never thinks about the consequences because he doesn't have to.

Until Hartley Wright appears, shaking up his easy life. She's the one girl who's said no, despite being attracted to him. Easton can't figure her out and that makes her all the more irresistible.

Hartley doesn't want him. She says he needs to grow up.

She might be right.

Rivals. Rules. Regrets. For the first time in Easton's life, wearing a Royal crown isn't enough. He's about to learn that the higher you start, the harder you fall.
I was provided a review copy; this did not influence my opinion of the book.
omg. O. M. G. WHY? HOW? #royallyruined is a damned understatement! Look up evil genius in the dictionary and you will find ERIN WATT.  I had 2% left to read and still had dinner to finish. What did I do? I held my Kindle in one hand and stirred my sugo with my other. I began walking in circles. CIRCLES. with that ending! Then I threw my Kindle at the love seat and went back to my kitchen. To grab a bottle of wine.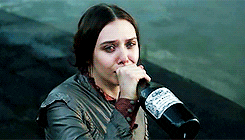 Oh, Easton how do I love thee, let me count the ways! My poor, poor broken and lost boy. He makes me want to hug him and show him he is worthy of love! He is the middle child, the attention seeker. He hides behind his bad boy persona, tries to find acceptance, while fighting the voices in his head that tell him, "the world's opinions be damned". Even though he has good intentions, his actions are reckless and careless. Damaging those in his path.
❝I told you, trouble follows you wherever you go, Easton.❞
He's the oldest Royal left at school, the one left in charge. He wants carefree, he wants fun. He wants the antipathies of responsibility. The problem with responsibility is, it comes in all forms.
Enter Hartley Wright. The girl with the unremarkable looks. The girl who doesn't dress to get attention. The one who doesn't want him. A product of a house of falling cards, Hartley is just trying to survive the hand that life dealt her. Attention of any kind, but especially from Easton, is a complication she doesn't need. So why can't she push him away? Why does he keep coming back for more?
With 'Fallen Heir', Erin Watt provided me with the crack that I have craved since 'Paper Princess'. This is the writing and story development that I have come to love from them. Characters that feel real, story and plot development that suck you in and don't even let you go with THE END.
Related Posts