When putting together my favorites list this year, I was surprised that I hadn't read more books that 'awed' me. Since I began making my favorites list in 2013, this is the first year I didn't have at least 10 favorite romance books. I know my tastes are changing, and I am becoming pickier, but not having to narrow down my favorites shocked me.
The good news though, is that the books that made the list stood out like beacons in the night! My favorites ran the gamut: romantic fantasy, sports romance, historical romance, women's fiction, dark romance, and young adult. If you get a moment, I'd love to hear what your favorites were!
Top Favorite of 2019 – Romance
❝Don't go near the water, love, the lough will take you far from me.❞

Amazon

What the Wind Knows by Amy Harmon

WHAT THE WIND KNOWS was the perfect mix of history, romance, and fantasy. Every word was exquisitely placed, every character perfectly crafted. These characters and this story are truly special.

In an unforgettable love story, a woman's impossible journey through the ages could change everything…

Anne Gallagher grew up enchanted by her grandfather's stories of Ireland. Heartbroken at his death, she travels to his childhood home to spread his ashes. There, overcome with memories of the man she adored and consumed by a history she never knew, she is pulled into another time.

The Ireland of 1921, teetering on the edge of war, is a dangerous place in which to awaken. But there Anne finds herself, hurt, disoriented, and under the care of Dr. Thomas Smith, guardian to a young boy who is oddly familiar. Mistaken for the boy's long-missing mother, Anne adopts her identity, convinced the woman's disappearance is connected to her own.

As tensions rise, Thomas joins the struggle for Ireland's independence and Anne is drawn into the conflict beside him. Caught between history and her heart, she must decide whether she's willing to let go of the life she knew for a love she never thought she'd find. But in the end, is the choice actually hers to make?
---
❝Why does everyone assume I want marriage? That if I'm not someone's wife, I'm not worth anything?❞

❝It's not about marriage. You shouldn't be anyone's second choice. Don't you want to be someone's first choice?❞

❝I don't want to be anyone's choice. I want them to be mine.❞

Amazon ፡ Apple

When We Left Cuba by Chanel Cleeton

An epic, unforgettable love story WHEN WE LEFT CUBA, was a spellbinding, character-driven novel filled with intrigue, heartache, and romance. It is an absolute must-read!

In 1960s Florida, a young Cuban exile will risk her life–and heart–to take back her country in this exhilarating historical novel from the author of Next Year in Havana, a Reese Witherspoon Book Club pick.

Beautiful. Daring. Deadly.

The Cuban Revolution took everything from sugar heiress Beatriz Perez–her family, her people, her country. Recruited by the CIA to infiltrate Fidel Castro's inner circle and pulled into the dangerous world of espionage, Beatriz is consumed by her quest for revenge and her desire to reclaim the life she lost.

As the Cold War swells like a hurricane over the shores of the Florida Strait, Beatriz is caught between the clash of Cuban American politics and the perils of a forbidden affair with a powerful man driven by ambitions of his own. When the ever-changing tides of history threaten everything she has fought for, she must make a choice between her past and future–but the wrong move could cost Beatriz everything–not just the island she loves, but also the man who has stolen her heart…
---
❝You're an all-or-nothing guy, so we knew the first girl to catch your attention would be the one. Esme is your 'one' Khai.❞

Amazon ፡ Apple

The Bride Test (The Kiss Quotient #2) by Helen Hoang

THE BRIDE TEST was stunning and beautiful and endearing. It held so much emotion and passion within its pages. This will be a book I reread often.

Helen Hoang is not a one-hit-wonder! I adored her debut, 'The Kiss Quotient,' it was one of my favorite books last year. And once again, Hoang has made my favorites list with THE BRIDE TEST!

Khai Diep has no feelings. Well, he feels irritation when people move his things or contentment when ledgers balance down to the penny, but not big, important emotions—like grief. And love. He thinks he's defective. His family knows better—that his autism means he just processes emotions differently. When he steadfastly avoids relationships, his mother takes matters into her own hands and returns to Vietnam to find him the perfect bride.

As a mixed-race girl living in the slums of Ho Chi Minh City, Esme Tran has always felt out of place. When the opportunity arises to come to America and meet a potential husband, she can't turn it down, thinking this could be the break her family needs. Seducing Khai, however, doesn't go as planned. Esme's lessons in love seem to be working…but only on herself. She's hopelessly smitten with a man who's convinced he can never return her affection.

With Esme's time in the United States dwindling, Khai is forced to understand he's been wrong all along. And there's more than one way to love.
---
❝Be careful what you fear.❞
❝We draw the attention of the fates when our fear grows too loud. The fates are cruel, and they will reward you with what you fear most.❞

Amazon

The First Girl Child by Amy Harmon

With THE FIRST GIRL CHILD, Harmon gives us beauty, depth and insight. This fantasy world she created is stunning and harsh. Her characters are flawed and perfect.

From ​the New York Times bestselling author comes a breathtaking fantasy of a cursed kingdom, warring clans, and unexpected salvation.

Bayr of Saylok, bastard son of a powerful and jealous chieftain, is haunted by the curse once leveled by his dying mother. Bartered, abandoned, and rarely loved, she plagued the land with her words: From this day forward, there will be no daughters in Saylok.

Raised among the Keepers at Temple Hill, Bayr is gifted with inhuman strength. But he's also blessed with an all-too-human heart that beats with one purpose: to protect Alba, the first girl child born in nearly two decades and the salvation for a country at risk.

Now the fate of Saylok lies with Alba and Bayr, whose bond grows deeper with every whisper of coming chaos. Charged with battling the enemies of their people, both within and without, Bayr is fueled further by the love of a girl who has defied the scourge of Saylok.

What Bayr and Alba don't know is that they each threaten the king, a greedy man who built his throne on lies, murder, and betrayal. There is only one way to defend their land from the corruption that has overtaken it. By breaking the curse, they could defeat the king…but they could also destroy themselves.
---
❝I knew, with absolute certainty, I'd dream of her and her spirit and her voice for the rest of my life. The belief was soul-deep, in my bones and muscles and skin, but particularly in my heart.❞

Amazon ፡ Apple

Beard with Me (Winston Brothers, #6) by Penny Reid

BEARD WITH ME was overwhelming, wonderous, and crushing. My chest ached and my eyes burned. Billy and Scarlet/Clare's story had a tragic beginning. Full of promise and lies. Full of pain and solace. Full of firsts and last times.

'Beard With Me' is the origin story of Billy Winston and Scarlet St. Claire (aka Claire McClure) and is just the beginning of their epic love story.

No one is better at surviving than Scarlet St. Claire and making the best out of circumstances beyond her control is Scarlet's specialty. In an apocalyptic situation, she'd be the last person on earth, hermitting like a pro, singing along to her CD Walkman, and dancing like no one is watching.

Scarlet is clever, Scarlet is careful, and Scarlet is smart . . . except when it comes to Billy Winston.

No one is better at fighting than Billy Winston and raging against his circumstances—because nothing is beyond his control—is Billy's specialty. In an apocalyptic situation, he'd be the first person on earth to lead others to safety, overcome catastrophe, or die trying.

Billy is fearless, Billy is disciplined, and Billy is honorable . . . except when it comes to Scarlet St. Claire.
---
❝But intimacy is about truth.
When you realize you can tell someone your truth, when you can show yourself to them, when you stand in front of them bare and their response is, "You're safe with me" – that's intimacy.❞

Amazon ፡ Apple

The Seven Husbands of Evelyn Hugo by Taylor Jenkins Reid

Evelyn Hugo is by far one of the most interesting characters I've read about. TJR writes her in such a way that she feels real. While reading her story, I couldn't help but wonder if (and secretly wishing) this was a true story about a real person.

Truly spectacular, THE SEVEN HUSBANDS OF EVELYN HUGO is not a book to be ignored, looked past or left sitting on your bookshelf! 

Aging and reclusive Hollywood movie icon Evelyn Hugo is finally ready to tell the truth about her glamorous and scandalous life. But when she chooses unknown magazine reporter Monique Grant for the job, no one is more astounded than Monique herself. Why her? Why now?

Monique is not exactly on top of the world. Her husband has left her, and her professional life is going nowhere. Regardless of why Evelyn has selected her to write her biography, Monique is determined to use this opportunity to jumpstart her career.

Summoned to Evelyn's luxurious apartment, Monique listens in fascination as the actress tells her story. From making her way to Los Angeles in the 1950s to her decision to leave show business in the '80s, and, of course, the seven husbands along the way, Evelyn unspools a tale of ruthless ambition, unexpected friendship, and a great forbidden love. Monique begins to feel a very real connection to the legendary star, but as Evelyn's story near its conclusion, it becomes clear that her life intersects with Monique's own in tragic and irreversible ways.

Written with Reid's signature talent for creating "complex, likable characters" (Real Simple), this is a mesmerizing journey through the splendor of old Hollywood into the harsh realities of the present day as two women struggle with what it means—and what it costs—to face the truth.
---
❝He looks at me in a way that makes me feel empty when he looks away.❞

Amazon

Regretting You by Colleen Hoover

REGRETTING YOU was unforgiving in its truth, ruthless in its emotional impact, and refreshingly inspiring!

FROM #1 'NEW YORK TIMES' BESTSELLING AUTHOR OF 'IT ENDS WITH US' COMES A POIGNANT NOVEL ABOUT FAMILY, FIRST LOVE, GRIEF, AND BETRAYAL THAT WILL TOUCH THE HEARTS OF BOTH MOTHERS AND DAUGHTERS.

Morgan Grant and her sixteen-year-old daughter, Clara, would like nothing more than to be NOTHING alike.

Morgan is determined to prevent her daughter from making the same mistakes she did. By getting pregnant and married way too young, Morgan put her own dreams on hold. Clara doesn't want to follow in her mother's footsteps. Her predictable mother doesn't have a spontaneous bone in her body.

With warring personalities and conflicting goals, Morgan and Clara find it increasingly difficult to coexist. The only person who can bring peace to the household is Chris – Morgan's husband, Clara's father, and the family anchor. But the peace is shattered when Chris is involved in a tragic and questionable accident. The heartbreaking and long-lasting consequences will reach far beyond just Morgan and Clara.

While struggling to rebuild everything that crashed around them, Morgan finds comfort in the last person she expects to, and Clara turns to the one boy she's been forbidden to see. With each passing day, new secrets, resentment, and misunderstandings make mother and daughter fall further apart. So far apart, it might be impossible for them to ever fall back together.

©2019 Colleen Hoover (P)2019 Brilliance Publishing, Inc., all rights reserved.
---
❝It's like our souls vibrate at exactly the same frequency.❞

Amazon ፡ Apple

Superfan (Brooklyn, #3) by Sarina Bowen

This slow burn romance was breathtaking, the writing was spectacular, and the characters were captivating. 

SUPERFAN is my favorite Bowen book, to date!

Sometimes lady luck shakes your hand, and sometimes she smacks your face. Sometimes she does both on the same day.

Three years ago I met the most amazing girl in the world. We were both down on our luck. Then I got that call—the one that tells you to get your buns on a plane to go meet your destiny.

But the girl was left behind. I didn't have her phone number, and she didn't know my real name.

While I became a professional hockey player, she became a superstar, with platinum records and legions of fans. And a slick, music producer boyfriend who treated her badly.

But fate wasn't done with us yet. When Delilah turns up at a hockey game, I can't resist making contact. The internet swoons when I ask her out on a date.

She might not remember me. But her jerkface ex does. He'll do anything to keep us apart.

Good thing athletes never give up. This time I'm playing for keeps.

More information at SarinaBowen.com
---
Top Favorite of 2019 – Women's Fiction
❝You deserve to never be disappointed, and you deserve to be with someone who doesn't make you feel like your choices aren't the right ones.❞

Amazon ፡ Apple

The Light Over London by Julia Kelly

THE LIGHT OVER LONDON was a superbly written, emotional, and deeply passionate dual narrative, filled with dazzling, unforgettable characters, intrigue, and a gripping love story.

Reminiscent of Martha Hall Kelly's Lilac Girls and Kristin Hannah's The Nightingale, this sweeping, entrancing story is a must-read for fans of remarkable women rising to challenges they could never have predicted.

It's always been easier for Cara Hargraves to bury herself in the past than confront the present, which is why working with a gruff but brilliant antiques dealer is perfect. While clearing out an estate, she pries open an old tin that holds the relics of a lost relationship: among the treasures, a World War II-era diary and a photograph of a young woman in uniform. Eager to find the author of the hauntingly beautiful, unfinished diary, Cara digs into this soldier's life, but soon realizes she may not have been ready for the stark reality of wartime London she finds within the pages.

In 1941, nineteen-year-old Louise Keene's life had been decided for her—she'll wait at home in her Cornish village until her wealthy suitor returns from war to ask for her hand. But when Louise unexpectedly meets Flight Lieutenant Paul Bolton, a dashing RAF pilot stationed at a local base, everything changes. And changes again when Paul's unit is deployed without warning.

Desperate for a larger life, Louise joins the women's branch of the British Army in the anti-aircraft gun unit as a Gunner Girl. As bombs fall on London, she and the other Gunner Girls relish in their duties to be exact in their calculations, and quick in their identification of enemy planes during air raids. The only thing that gets Louise through those dark, bullet-filled nights is knowing she and Paul will be together when the war is over. But when a bundle of her letters to him are returned unanswered, she learns that wartime romance can have a much darker side.

Illuminating the story of these two women separated by generations and experience, Julia Kelly transports us to World War II London in this heartbreakingly beautiful novel through forgotten antique treasures, remembered triumphs, and fierce family ties.
---
Top Favorite of 2019 – Young Adult
❝He's the most beautiful guy I've ever laid eyes on, even more so now because I know he has a heart. He's not a hot jerk; he's not full of himself. He's … Emmett.❞

Amazon ፡ Apple

Be The Girl by K.A. Tucker

BE THE GIRL was poignant, funny, heartwarming and redemptive, it was about looking past each other's differences and accepting others for who they are. But above all, it's about being kind to one another.

Almost sixteen-year-old Aria Jones is starting over. New postal code, new last name, new rules. But she doesn't mind, because it means she can leave her painful regrets behind. In the bustling town of Eastmonte, she can become someone else. Someone better.

With the Hartford family living next door, it seems she will succeed. Sure, Cassie Hartford may be the epitome of social awkwardness thanks to her autism, but she also offers an innocent and sincere friendship that Aria learns to appreciate. And Cassie's older brother, Emmett—a popular Junior A hockey player with a bright future—well … Aria wishes that friendship could lead to something more. If he didn't already have a girlfriend, maybe it would.

But Aria soon finds herself in a dicey moral predicament that could derail her attempt at a fresh start. It is her loyalty to Cassie and her growing crush on Emmett that leads her to make a risky move, one that earns her a vindictive enemy who is determined to splinter her happy new world.
Top Favorite of 2019 – Series or Duet
Juniper Unraveling #2 and #3 by Keri Lake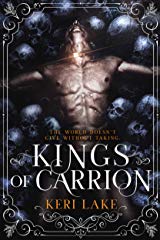 Calico Descending Review | Amazon ፡ Kings of Carrion Review | Amazon
---
Top Favorite of 2019 – Audio
The Night Tiger by Yangszee Choo
---
Top Favorites of 2019
Related Posts