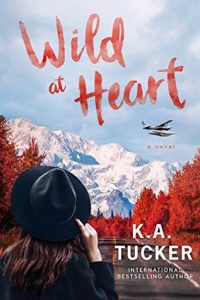 Wild at Heart (The Simple Wild, #2)
by
K. A. Tucker
Series: The Simple Wild #2
Also in this series: The Simple Wild, Forever Wild
Published
by
INDIE SELFPUBLISHED, K.A. Tucker
on February 18, 2020
Pages:
400
Genres: Contemporary, Romance
Review Copy Provided By:
Author
Goodreads
AMZ US
Apple Books
This post may contain affiliate links you can use to purchase the book. If you buy the book using that link, I may receive a small commission from the sale.
From the internationally best-selling author of The Simple Wild comes the continuation of a woman's journey to Alaska and a life she never imagined for herself.

Calla Fletcher returns to Toronto a different person, struggling to find direction and still very much in love with the rugged bush pilot she left behind. When Jonah arrives on her doorstep with a proposition she can't dismiss, she takes the leap and rushes back to Alaska to begin their exciting future together.

But Calla soon learns that even the best intentions can lead to broken promises, and that compromise comes with a hefty price—a log cabin in interior rural Alaska that feels as isolating as the western tundra.

With Jonah gone more than he's home, one neighbor who insists on transforming her into a true Alaskan, and another who seems more likely to shoot her than come to her aid, Calla grapples with forging her own path. In a world with roaming wildlife that has her constantly watching over her shoulder and harsh conditions that stretch far beyond the cold, dark, winter months, just stepping outside her front door can be daunting.

This is not the future Calla had in mind, leaving her to fear that perhaps she is doomed to follow in her mother's fleeing footsteps after all.
I was provided a review copy; this did not influence my opinion of the book.
❝I fell in love with a sky cowboy.❞
How do you feel about sequels? To be honest, they rarely meet my expectations. This is especially true when that previous story made my Top Favorites of the Year list. You'd think that by now, I'd learn to either lower my expectations or not read the next book, but I suppose I'm a glutton for punishment. So you can imagine my delight when I read 'Wild at Heart' and LOVED it! It was not only the exception, but it was THE PERFECT continuation of Jonah and Calla's story from 'The Simple Wild'. I cannot sing its praises enough!
Calla and Jonah move to a remote area in Alaska. On their isolated 100 acres, they have an airstrip for Jonah's airplanes, a home, a garden, a goat, and a place for their raccoon. The scenery is stunning and serene.
❝It's the day to day stuff that makes a real marriage,❞
It was a joy watching Jonah branch out and come into his own. But it was the journey that Calla took, that stole the show. She had always been a strong character, but that was when she felt she had a bit of control or a way out. When the newness and charm begin to wear off, Calla is left to figure out who she is and how she's going to make Alaska her new home. What part of her will she bring to this town? How is she going to survive here, alone, while Jonah is gone hours at a time, fighting fires and gone for weeks on end, while flying for Big Game Alaska? Also, Tucker does a fabulous job giving us insight into the struggles this community faces. From the isolation to the brutally cold winters, Tucker shows how important a support system and strong community are to their survival.
❝I will always find ways back to you.❞
We get to meet a whole new cast of characters; Muriel, Todd, Teddy, and Roy. They were brilliantly written, and spin-offs could easily be written about each of them. And I am dying to learn about Teddy and Muriel's story – to learn how Muriel got to be the spitfire she is. I also want Todd's story to develop and for him to live his perfect life. But it is Roy whose happy ending I crave. The curmudgeon not only grew on Calla, but he grew on me, too.
These are the types of stories where Tucker's brilliance as a writer shines; stories about family, about commitment, and about fighting for each other. Stories about real-life struggles, everyday worries, and love. She delves into them, studies them, and brings them to life.
'Wild at Heart' was funny, charming, tender, heart-warming, and passionate; simply put, it was beautifully written.
Related Posts