OMG, YOU GUYS!!! I have the gorgeous cover reveal for Keri Lake's INTREPID. I am so excited to share this cover with you—check it out and preorder your copy today!
AMAZON US | AMAZON UK | AMAZON CA | AMAZON AU | B&N | APPLE | KOBO
Title: Intrepid
Author: Keri Lake
Genre: Contemporary Romance
Release Date: April 10th
About Intrepid:
In the corner house of an empty street, there is a boy inside a box.  In that boy, there lives a secret, one so dark, it's sealed with locks.
Nearly ten years have passed since the night I was captured. Tricked and betrayed, I suffered the hours of brutal torment with death's cold whisper across my skin. And when the nameless faces that haunted my nightmares took everything and everyone I loved, I feared I'd never be free of the darkness.
But that's the thing about fear.  Over time, it breeds anger, and when anger fills the box, vengeance bleeds out.
It's been almost a decade since I escaped their hell, staying in the shadows, hiding my demons, and God help them now that I've tasted retribution and crave more of it. 
Blood is the price for pain, and I vow to take everything and everyone they love.  I'm no longer a frightened boy, but the intrepid vigilante, a ruthless executioner, who will stop at nothing to punish the depraved few that stole my life and walked free. 
The plan is perfect, except for her.  The one woman I'm forbidden to have, whose soothing touch settles my fractured mind.  My angel of mercy sent to silence the voices. Yet, not even she can save me from the black void wherein my skeletons lie buried beneath the truth. Because in order to feed my thirst for revenge, I have to destroy the very thing that gives me purpose.
Tooth for a tooth, heart for a heart.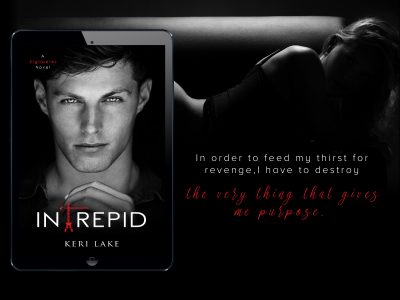 Exclusive Excerpt
The stranger stepped into my view, his hand outstretched.  "So you did it."
In spite of the ache in my back, I allowed him to pull me up to a stand.
The echo of pain lingered in my ankle, knocking me back a step, but he yanked tight, and wrapped his hand around my waist to steady me.
"You need me to carry you?"
"No.  This is humiliating enough.  I'll suffer the walk, thanks."
We rounded the building—ungracefully hobbled, in my case—to find a fire truck, police cars, and a crowd of people corralled together.
Though, that didn't shock me quite as much as seeing the long, sturdy-looking fire escape snaking down the side of the building.
"You said there wasn't a fire escape!  Why did you lie?"
He shot a glance over his shoulder, but kept on down the side street.  "You said you couldn't climb down the chimney.  You lied, too."
"I had no choice!  I could've died up there!"
"Everyone has a choice.  So, how does it feel?"
"How does what feel?" I hissed, and at a sharp throb along my shin, I winced.
"To conquer your fear."
I paused, dumbfounded, and looked back to the building and the chimney I'd just climbed down.  Ninety feet high inside a cramped space.  Something I wouldn't have willingly done, had someone paid me.
"Offer's still there, if you want a ride home."  Twisting around to face me, he walked backwards, sliding a pair of gloves onto his hands. "Or you can wait for your Uber.  Your choice."
"I don't even know your name."
"Ty."
"I'm Sera.  As in Serafina."
"Yeah, I know."
Rearing back, I frowned, folding my arms as I followed after him.  "Um.  How?"
"Bea!  Simone!  It's Sera!  Wait for me!"  His hands waved dramatically in the air, mocking me.
Biting the inside of my cheek stifled the urge to laugh.  "Right."
"So, Serafina.  Named after the angels."  He came to a stop in front of a sleek black motorcycle hidden in the brush, and handed me a helmet he pulled from somewhere on the other side of it.
"What are you, a religion major?"
He smirked and looked past me for a moment, as if checking to make sure no one had followed us.
Paranoid, I checked, too, before shifting my attention back to the impressive machinery standing before me.  "I've never been on a bike before."
Lips screwed to a wry smile, he mounted the bike and jerked his head for me to get on behind him.  "Well, this night just keeps getting better and better, doesn't it, Sera?" 
OTHER BOOKS IN THE SERIES:
RICOCHET (VIGILANTES, #1)
AMAZON US | AMAZON UK | AMAZON CA | AMAZON AU |B&N | APPLE | KOBO
BACKFIRE (VIGILANTES, #2)
AMAZON US | AMAZON UK | AMAZON CA | AMAZON AU | B&N | APPLE | KOBO

Enter Keri's Giveaway:
a Rafflecopter giveaway

Related Posts