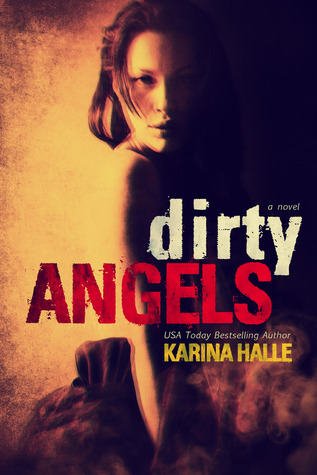 I wish I could have just 10 minutes in the mind of Karina Halle! What a magnificent place that must be. She's crazy talented, brilliant beyond words and can write ANYTHING! Her collection is so diverse it's maddening to the layperson…me.
I have been team JAVI since Sins & Needles Call me sick, twisted or dirty, I don't care. I've always seen the sensitive, needy, vulnerable man beneath the "soulless monster."
Javier has been seeking his angel since Ellie, his last true love.
"Why do you want to break me so badly?" -Luisa

"Because I want to destroy beautiful things before they can destroy me." -Javier
Javier, is one of the most powerful men in his business. He takes what he wants, maiming, or killing those in his path. He wants power and all that it brings; money, nice clothes, nice homes, and respect. And, he wants Luisa. He makes no apologies, lives by one moral code, his promise.
Luisa, a former beauty queen, can't catch a break. She's lived a life of poverty, with two ailing parents and worked for a lecherous boss as she tried to support her family. Fate was not kind to Luisa, she was "forced" into marrying a vicious, abusive top drug lord – Salvador Reyes. She is a strong woman, with a hidden defiance that keeps her alive.
Javier's goal, take over a shipping lane from Salvador Reyes, he sees Luisa as his bargaining tool. She sees him as the lesser of two evils.
He needed his HEA! and, I needed more of this book. The ending came too soon. I gasped, and yelled at my iPad willing more of his story to appear. I NEED to know what happens with Luisa and Javier, but more than that, I want to see his destiny fulfilled:
"My destiny was constantly being rewritten and it would continue to be until it was fulfilled. Until I was at the top of the world and I had everything I'd ever wanted at my feet. Until I could crash everything with none of the mercy that was bestowed upon me."
The question that comes to my mind is, for someone in his business, can they ever feel fulfilled? Or are they always searching, seeking, working to tear down the next person while continuing to claw their way higher? Will the top be high enough? Now with his queen by his side, can he find the peace he's been seeking?
"After all, a kingdom was only as good as it's ruler, and a king and queen could do more damage together than a king alone."
4 1/2 – 5 Stars
Related Posts