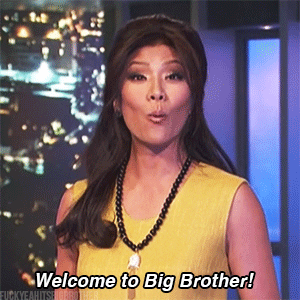 My friend Collector of Book Boyfriends & Girlfriends created this FUN book tag.  I don't watch much TV, so this took some thought, but I think I came up with a good one …  I'm going to use BIG BROTHER for this TV BOOK TAG.
How To Play:
1) pick a tv show
2) then use gifs, memes, etc of that show to describe books and characters
Let the fun begin…

name your favorite author that you'd do anything to meet her/him in person
I have many favorite authors, but if Penny Reid were anywhere near my home today, I would drop everything and go find meet her.
name the book that has made you question your sanity
Mudvein by Tarryn Fisher It captivates the mind with the twists and turns and its darkness. My heart was racing the entire book. There were moments when I couldn't catch my breath and others when I was afraid to do so.
name one character you'd totally fight your ass off for her/him
Celeste from Flat out Celeste by Jessica Park I adored this book and that character. Fighting to cement her own life in a world that was so different from her, she navigated, and adjusted, and wasn't afraid to be different, even weird! I would totally stand by her and fight anyone who bullied her!
name the arc you've received that had made you super excited
I am amazed anytime I receive an ARC, so this is difficult for me, but since I have to choose, I would say my first ARC from Penny Reid.. when I was at work and received that message from her asking if I would be interested in ARC reading Shiver: 13 Sexy Tales of Humor and Horror, I was barely able to focus the rest of the day. I had already purchased the book so I of course turned it down, but then came Scenes from the City (Knitting in the City, #4.5) (again, I had already purchased it lol). Then I signed up for a promo tour of Beauty and the Mustache and that hit my FAVES of the YEAR list. Each ARC I receive from Penny Reid I feel the need to pinch myself.
name the last book that left you with a huge book hangover
Vanguard by C.J. Markusfeld. Everything I want from a book, Vanguard had it in spades! From the opening page to the ending, I was riding a thrilling, emotional roller coaster. This was a modern-day WAR STORY! Who would have thought I would have liked that?
name your favorite stand alone series
The Sign of Love series by Mia Sheridan. Each book is uniquely it's own, yet resoundingly the same. They all beautifully detail the human spirit at its lowest and in its finest.
name your number one book boyfriend
Well, my current number one is Jake Becker from Sustained by Emma Chase. GAWD I love that man! Talk about swoon-worthy! The interactions Jake had with the kids were adorably sweet and absolutely hilarious. He becomes their defender and protector and they all fall in love with each other …sigh! Where can I find him? Is he available, can I have his number? If you find it, text it to me, please!
Here are some questions I didn't use, but only because I was unable to choose! :))
name the most unexpected plot in a book you've ever read
name the book boyfriends you'd totally would love to see all together in the same book
name an addition to a series that you didn't expect and made you super happy
name the hottest book you've ever read
I tag Jas_Reading Escapade@readingescapade and Jae@lilyswampahat
Related Posts