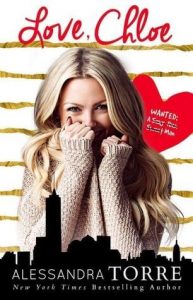 Love, Chloe
by
Alessandra Torre
on March 14, 2016
Pages:
417
Genres: Humor, New Adult, Romance
Review Copy Provided By:
Author
From NYT Bestseller Alessandra Torre...
The sexy serial that exploded on Cosmopolitan.com is now a full-length, standalone novel.

Chloe Madison. That's me. A former NYU princess who just fell from grace, right off my pampered Manhattan throne and onto the unforgiving steps of Nicole Brantley, socialite and queen bitch. Now, I walk her dog and mix her smoothies. Try to navigate my own problems while fixing all of hers.

I want what every New York girl wants. A career, an apartment, and true love, preferably in a smoking hot package.

It turns out I'll have to fight for all of it.
I was provided a review copy; this did not influence my opinion of the book.
SWOOOOOON! SO ROMANTIC, SO HEARTFELT, SO LOVELY!
❝Life might be a bitch, but love? She kicked that bitch's ass.❞
It doesn't matter how I'm feeling. What kind of day I've had — good, bad or ugly, I know I can always pick up an Alessandra Torre book and happily escape between its pages.
I LOVED THIS STORY!
'Love, Chloe' is about Chloe's coming of age. How she went from spoiled to 100% responsible for her own existence. Having to take self-inventory and dig deep. Find out what she's really made of and amp that shit up! It was now or never, survive or die and Chloe Madison decides living is much more fun!
When her parents abandoned her, her friends coddled and supported her the only way they knew how. But it wasn't enough, and Chloe realized she was in this alone. She could have turned to her very rich and sexy ex. for help. But her dignity and pride were worth more than his millions.
'Love, Chloe' made me swoon, had me laughing, and left me lusting for Carter.
❝I could scoop sex appeal off his cheekbones and bottle it in lube and be happy for the rest of my life.❞
Meeting Carter was a gift. One that was unexpected, because he is, after all, her building's super and she is bread of high society. What would have turned her away, now grounded her. She found comfort in his "commonness" and love in his eyes.
❝His eyes grounded me. I could look at them all day. My calm in the storm, they looked at me as if they knew all of my secrets and loved me for them.❞
Alessandra Torre has a way with words. She doesn't just craft sentences and paragraphs out of them, she molds them into captivating stories. Whether sweet, romantic comedies or dark erotic, novels, Torre sucks me in, every time!
Related Posts