Matt & Zoe
by
Charles Sheehan-Miles
on February 14th 2016
Pages:
369
Genres: Contemporary, Romance
Goodreads
When Army Sergeant Zoe Welch learns of the tragic death of her parents in a car accident, Zoe has one concern: the care of her eight-year-old sister Jasmine. Discharged from the Army, Zoe travels home from Tokyo to South Hadley, Massachusetts, where she'll be faced with an all new life she never planned on.

Matt Paladino is Jasmine's 3rd grade teacher. Handsome and athletic, Matt's deeply concerned about Jasmine's welfare. But Matt has secrets, hidden in the dark three-ring circus of his past.

When Matt and Zoe's lives collide, they seem made for each other. But will the pasts that haunt them both keep them apart?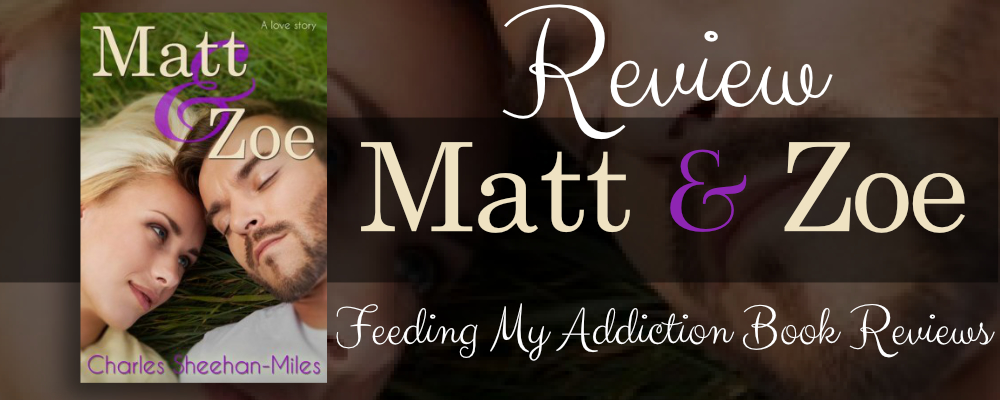 Zoe was stationed in Japan on her second tour for the Army when she got the call her parents had been killed in a car accident. She immediately left the Army, to go back home and take care of her 8 year-old-sister, Jasmine. She is grappling with the past. She believes she was a failure in her parents eyes because she joined the Army instead of attending college. Her mother trained horses and her father had been a college professor. She feared she didn't fit their mold of a perfect daughter. Now she's home having to not only take care of her sister, but she has to run the horse business and figure out what she's going to do with the rest of her life.
Matt is Jasmine's 3rd-grade teacher. He's kind, caring and has a good heart. He was raised by a tyrant of a father and forced into the family business. After a tragedy occurs, Matt finds solace in college and eventually as a teacher. But the past still haunts him.
Charles Sheehan-Miles delves into the individual lives of these characters and gives us a character study.  We learn about the struggles these characters are going through and what they've faced in the past that has shaped them into who they are today. Unfortunately, I felt the love story was secondary. While the writing was good, I didn't feel the romance.
I am a huge fan of this author and loved his Thompson Sister's series. This book may not have been my favorite, but I am still a fan and will undoubtedly read more from him.
Related Posts