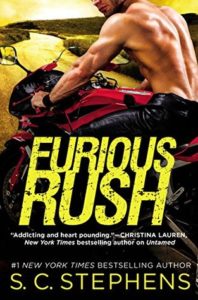 Furious Rush
by
S.C. Stephens
Find the Author:
Website
,
Twitter
,
Facebook
,
Goodreads
Published
by
Grand Central Publishing, Forever
on August 23, 2016
Goodreads
AMZ US
B&N
Kobo
IndieBound
Apple Books
Books-a-Million
Google
For Mackenzie Cox, racing motorcycles is in her blood. Born into a family legacy, she's determined to show the world that she has inherited her father's talent in this male-dominated sport. The last thing Kenzie needs is to be antagonised by her rival team's newest rider, Hayden Hayes. Hayden, exceedingly arrogant and outrageously attractive, immediately gets under Kenzie's skin and she can't help but be distracted.

As Kenzie and Hayden push each other on the track, the electric energy between them off the track shifts into an intense - and strictly forbidden - attraction. The only rule between their two ultra-competitive teams is zero contact. Kenzie needs a win, and she also needs to stay away from Hayden. Unfortunately for her though, one thing has become all too clear: she can't.

Fuelled by passion, driven by desire, Hayden and Mackenzie both want to win more than anything else. Except for, maybe, each other. But anger, jealousy and extreme competitiveness aren't their only obstacles . . .

Trade Paperback: $12.99 USD | eBook: $4.99 USD | Audio: $22.98 USD
I was provided a review copy; this did not influence my opinion of the book.
FURIOUS RUSH IS LIVE! Get it today!  Keep reading for a Top 5 List from author S.C. Stephens, my review, and an awesome giveaway!
Top 5 List

Top 5 favorite songs or artists?

Imagine Dragons. I love all their songs, but when I saw them in concert, I was blown away. The lead singer performs exactly how I picture Kellan performing. It was a surreal experience.
Linkin Park. The sound of this band (on a lot of their songs) is exactly how I imagine the D-Bags sounding. LP will always hold a special place in my heart. Plus their concerts are amazing! They sound just as good live.
OneRepublic. These guys were on constant repeat while I was writing the Thoughtless trilogy. I love them with all my heart. And I got to stand this close to Ryan Tedder during a meet and greet. Awe-some.
Old Dominion. My honey-boo has been slowly getting me into country music. I just picked up their album, and I love every song! I also love the fact that the scratch and sniff bacon sticker on the cover smells like cotton candy (the album is called Meat and Candy—haha!).
Every Avenue. I cried the day this band broke up, and I did an all-day Twitter celebration on the day of their last concert. A fan turned me on to the band after Thoughtless was released, and I was amazed by how well their lyrics fit the story—its uncanny! These guys are also the only band I have gotten autographs from. Thanks to a reader, I was able to get a copy of Effortless signed by every single member. Best. Gift. Ever.
❝We were a tragedy waiting to happen.❞
Complete with lies, deception, and mystery, 'Furious Rush' is a forbidden love story, between two young adults who are in the middle of two warring families. 
Mackenzie Cox is the only legacy to the failing Cox Racing organization. As a female racer in a male dominated sport, she was bred to be a winner. Which will be necessary if she is to save her father's financially ailing business. The last thing Mackenzie needs is a distraction from her goal. Especially when a distraction by the name of Hayden Hayes is hired by her families neighbor and rival, Benneti Racing. Both teams were banned from any fraternization. If caught, you would be fired.
❝It wasn't just my own personal goals on the line when I raced. No, my entire family legacy was at stake.❞
From street racer to professional, Hayden Hayes has his own reasons for needing wins. He doesn't see Mackenzie as a distraction tho, he sees a competitor, someone who makes him better.
❝We were both struggling for respect, we were both fighters, we were both underdogs.❞
What starts as training together, quickly turns to passion. Keeping their race training a secret is difficult, can they keep their relationship a secret too?
Packed with angst, twists, and turns, as well as a killer cliffhanger, 'Furious Rush' is one heck of a bumpy ride!

Follow Forever Online
Website: http://bit.ly/1W6ZY8C
Facebook: http://bit.ly/1Zmyycz
Twitter: http://bit.ly/2aF6B0X
Instagram: http://bit.ly/1Xco7tE
Pinterest: http://bit.ly/23uLXQZ
Related Posts