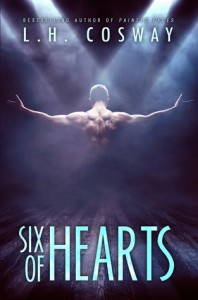 Six of Hearts
by
L.H. Cosway
Series: Hearts #1
Also in this series: Hearts of Fire, King of Hearts, Hearts of Blue, Thief of Hearts
on 7/26/14
Pages:
358
Step right up and meet Jay Fields: Illusionist. Mentalist. Trickster.

I think in triangles. You think in straight lines.

I show you a table and make you believe it's a chair.

Smoke and mirrors, sleight of hand, misdirection. I trick and deceive.

But most of all, I put on a good show.

The world thinks I killed a man, but I didn't. Bear with me. It's all a part of the plan.

Revenge is what I want. I want it for me and I want it for her.
I want it for all six of us.

She doesn't remember me, but she's the reason for everything. She'll be my prize at the end of all this–if I can hold onto my willpower, that is. Maybe I'll slip up a little, have a taste, just a small one.

So go ahead and pick a card. Come inside and see the show. Look at my hands, look so closely that you can't see what's happening while you're so focused on looking. I'll be destroying your world from right here in the spotlight.

You'll never see me coming until it's too late.

I've only got one heart, and after I've pulled off my grand deception I'll hand it right to her.

So, sit back, relax, and let my girl tell you our story. You're in for one hell of a ride.
I was provided a review copy; this did not influence my opinion of the book.
Jay Fields may be the master of illusions, but L.H. Cosway is the master at bringing illusions to life.  This book was one giant illusion.  Intrigued from the start, I cursed myself for starting this over the holidays, because putting it down was a severe struggle (hence, the 3 hours of sleep I got Christmas Eve).
The writing in this book is captivating, flowing seamlessly from one chapter to the next. The plot was unlike anything I've read before.  Yes, I've read romantic mysteries before, but this was not that, yet, it was mysterious. I was swept away with the tornado of events as they came to life.  I was not prepared for this book.  It was completely different from what I expected it to be.  The love story was beautiful.  The sexual tension OFF THE CHARTS and it was FUNNY!  The characters brilliant.  The pacing, spot on, not too slow, not too fast.  In fact, I would look at my percentage one moment and the next I was 30% further into the book, not realizing I had read that much.  That's how good this book is, you will lose yourself, and be completely immersed in the story.  It had me swooning, laughing, crying and on the edge of my seat with suspense.  All of that in one book!  There was no doubt I would love it. So, what was it about?  That's the hard part.  Telling you about the book without telling you about the book. Going into this one blind is the best way to enjoy it.
Jay Fields is a master illusionist living in Ireland.  He has recently come into some trouble and seeks out legal help. He has chosen Matilda Brandon's father, Hugh as his attorney.  Hugh has some concerns about taking on such a case and so Jay has some convincing to do.  Having him as a client may not be high on her list of greats, but Matilda certainly thinks Jay is hot and getting to know him might not be a bad idea.  Jay is so panty droppingly (new word?), swoonworthy that, I drooled a little while reading his scenes. Okay, a lot, I drooled a lot, but who could blame me?
"When I look at you, my head clears.  Most times there's a storm up in this brain of mine, but then you walk into a room and I can focus."
Matilda is a resilient, yet vulnerable character.  She suffers from what most women do, a healthy supply of self-loathing.  For one reason or another, we think we don't or can't measure up.  What I loved about Matilda was despite the things that had happened to her and how she may have felt about herself, she didn't whine!  She persevered and moved on.  She challenged herself to love and live. "I believe myself to be patient.  I also believe that some things are worth waiting for, and Jay is certainly one of them."
"I think you underestimate my ability to accept you, Jay, even your bad bits."
I can't say anymore, because I don't want to spoil any of the story for you if you haven't read it.  Which, if that's the case, this needs to be your next read!
"…,but we both know that mystery is better than the truth.  So why not live with the magic? Be a kid again and believe in the fantastical.  Life is more fun with a little smoke and mirrors."
Related Posts