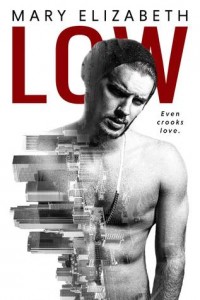 Low
Series: Low #1
Also in this series: Poesy
on February 1st 2016
Pages:
235
Goodreads
Reading Challenges:
Read New Authors
It's hard living on the wrong side of the tracks.

Lowen Seely has a criminal record to prove it. Determined not to follow in his father's footsteps, he fights instinct and tries honesty. But hunger becomes painful, and bills are due. Forced to choose between what is right and wrong, the boy from the hood learns abiding by the rules is nearly impossible when corruption is in your blood.

Falling for an outlaw has changed everything.

Poesy Ashby is the definition of ride or die, even when it means turning her back on freedom. The girl from the suburbs gives conformity the middle finger. Bonnie and Clyde have nothing on her love story.

On the run with consequences in the rearview mirror, Lowen and Poesy accept the truth: they are the bad guys.

But can they get away with their crimes?
Mary Elizabeth is a word wizard.
I love when authors use words purposefully. When they don't just toss a few on a page and call it good. Mary Elizabeth's word choice was intentional. Her sentences, exquisitely descriptive. Her paragraphs, like poetry. It was a dichotomy really, as the writing was beautiful and lyrical, yet the story was serious and at times, depressing.
❝CAR ALARMS, POLICE sirens, and heavy beats litter the air in a ghetto symphony. The setting sun paints the sky in purples and pinks under a thick blanket of gray smog, casting my shadow on graffiti-marked walls as I stroll by on dirty sidewalks.❞
Lowen – Low -, was born in poverty and bad luck. The son of a drug addict and murderer, and a mother who was well-intentioned, yet unable to improve their circumstances.
Poesy – Poe -, was born into the middle class and unto neglectful parents who were more concerned with their own lives and circumstances than they were their daughter who didn't fit into their box of ideals.
In Low, Poe finds excitement, danger, and like-minded thinking. Low finds unconditional love in Poe and acceptance. Both willing to do anything to survive, they are intensely obsessed with one another. Narcissistic and in love, they will do anything to stay in their love-induced bubble.
Low finds his good intentions at an honest life thwarted by circumstance and pressure from Poe. He may have wanted to ride the good and honest road, but for a convicted felon that isn't easy. Couple that with a girl who is more than willing to push boundaries and thrives on the energy it produces, Low's battle for redemption was lost.
❝Happiness does come with money. Power is in the barrel of my gun. There's no respect in thievery, but there is control. It's my favorite part.❞
I didn't like Poe!
I didn't. I couldn't. The irony is I felt she was more of a bad influence on Low than the convicted felon was on her. I believe he would have fought to do the right thing, maybe even succeeded had it not been for her.
I did like Low. I could feel and appreciate his intense sense of obligation to those he loved. He battled with right and wrong. He lived on the edge with guilt eating away at him. But he was a survivor and in love. This meant doing whatever needed to be done in order to protect the ones he loved.
Bonnie and Clyde
This isn't the first modern-day Bonnie and Clyde story I have read. But it is one of the best. The character development was superb. Mary Elizabeth slowly transformed (or revealed) Poe into the girl I loved to hate. My first impression of her was that of a sweet naive girl. What we find, is she is anything but. This lent validity to the story and showed how and why she did the things she did.
Lowen and Poesy had an intense relationship, deep love and total commitment to one another. I felt sad for them and angry with them for the choices they made. Reminding me that all-too-often, intelligence and common sense are not necessarily utilized gifts.
Terrific writing, well-developed characters, and a solid plot, made Low a 5 star read for me!
Reading this book contributed to these challenges:
Related Posts