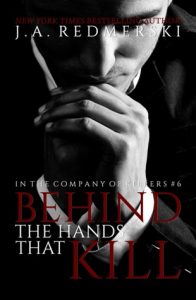 Behind The Hands That Kill
by
J.A. Redmerski
Series: In the Company of Killers #6
Also in this series: Reviving Isabel, Killing Sarai, The Swan and the Jackal (In the Company of Killers, #3), Seeds of Iniquity
on May 7, 2016
Genres: Romance, Suspense
Goodreads
AMZ US
Even professional killers need vacations, but for Victor Faust, his vacation in Venezuela is about more than relaxation and time alone with Izabel Seyfried. It is a chance for him to come clean to Izabel: to tell her the truth about why he sent her to Italy with his brother, the truth behind his interest in Nora Kessler, and about his knowledge of Izabel's child with her former captor. But before Victor can spill his soul, reality proves that for some killers, vacations are just pipe-dreams.

Attacked and kidnapped, Izabel finds herself stuffed in a suitcase, while Victor later wakes up imprisoned in a cage. In any other situation, Victor would find a way out and save himself and the woman he loves—but not this time. When the identities of their kidnappers are revealed, Victor loses all hope, and begins the mental process of accepting his and Izabel's last moments together. And Izabel's final moments of life.

As if his circumstances are not complicated enough, members of Vonnegut's Order are finally closing in on Victor. And when they do, he comes face-to-face with someone else he once knew and loved, who could either help him, or make a grave situation much worse. Victor's past has finally caught up with him: the women he has cared for, loved, and killed; the families he has destroyed; the unforgivable crimes he has committed. And now he must face the consequences, and pay the ultimate price for absolution.

But when it is all over, Victor may not have the strength to pick up what is left and move on. Because the event changes him. Because love changed him. And because, unlike before when he thought it is was for the best, he cannot imagine a life without Izabel in it.
❝The stars will die before we do, Izabel…❞ She smiles. ❝I know they will,❞ she whispers.
What happens when you read one of your most anticipated books of the month, in months (out of months)?
I mean, what now? I waited. I held on to 'Seeds of Iniquity', 'The Black Wolf' and cherished the release of 'Behind the Hands That Kill'. I read them back to back. Now there's nothing left to do, but WAIT? I don't do the "patience thing" well when it comes to a favorite series/favorite author. I am like a two-year-old who wants her pacifier… gimmeee gimmeee, gimmeee. Quit rolling your eyes, you have your favorite's, we all do, I have several, and J.A. Redmerski and her In The Company of Killers is one of those.
This series is seriously addictive. With each book, a new dilemma and/or character is introduced. There's murder, scandal, and intrigue. OH, and don't forget the sexy times, there are plenty of those. Each character has a book, but each of those books has side character stories so fully developed that you are completely sucked in.
I need to find the nominating committee, the one that is in charge of bringing books to TV. Because In The Company of Killers needs to be made into a tv series. I can see an HBO or Showtime.
'Behind the Hands That Kill' takes up immediately where TBW ends (thankfully) and all of those questions that were left dangling were answered. Victor's past is dredged up like an oil slick in front of Izabel and she is stuck with no way out, forced to face his past along with him. But with answers, come more questions. As Vonnegut is hot on their trail and changes come to Victor's Order, Izabel is changing right along with Victor. However, as Victor faces his humanity, Izabel faces the side she has been searching for, training for and longing for.
BtHTK ended too soon. But it did so with the promise of more books to come. Now the hard part is the wait. Excuse me while I go in search of something to pacify me.
Related Posts