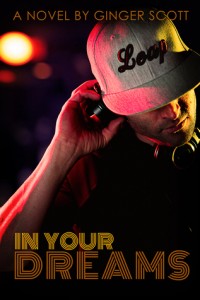 In your Dreams
by
Ginger Scott
Series: Falling #4
Also in this series: This is Falling
on March 29, 2016
Genres: New Adult, Romance
Goodreads
AMZ US
B&N
Kobo
Apple Books
Casey Coffield has a growing list of personal flaws he keeps locked away in his head:
He's never on time.
His list of IOUs to his best friend is endless.
Money is always short.
Goals are never in reach.

Oh, and he's decided to add college drop-out to that list, too. He doesn't really think that last one's such a bad thing, but his family insists it is, so it stays on the list.

On paper, he's a zero. But in person, when he's mixing tracks for a sea of bodies at the hottest clubs and parties, he's downright irresistible. Just-right stubble on his chin, body of a boxer and a smirk that stimulates all the right nerves—women have never been a problem. They flock to his swagger and fall for his charm…fast.

All except for this one.

Purple hair, gray eyes, a raspy voice and sass, Murphy Sullivan is a little bit country and a little bit rock-n-roll. And her and Casey? They have history. He can't remember it, but she wrote a song about him—and it's not exactly a love song. But it is good. Damn good. And uncovering her inspiration just might be the key to solving a few of his shortcomings—not to mention open doors to his own big break in the music industry.

But sometimes dreams get messy when they collide. Sometimes life changes patterns. A past paints the wrong picture and futures get cloudy. The only question that remains is who will you choose when the dust settles—you? Or the girl of your dreams?

** This book is a Falling Series spin-off. It can be read as a standalone. **
I was provided a review copy; this did not influence my opinion of the book.
Ginger Scott brought humor and heartfelt moments with 'In Your Dreams'.
This was a sweet and endearing book about forgiveness, second chances and going after your dreams. From the beginning, Scott had me hooked. I loved the quirky, shy Murphy and the lost, yet sensitive Casey.  At first glance, they shouldn't work. He's a manwhore who only wants to go after his dream and prove he's not a failure, she's battling insecurities and afraid to go after her dream. But they work perfectly. Their differences, compliment each other.
I loved how Scott paired the brokenness of Casey that resulted from his dysfunctional family, with the loving and supportive family that Murphy had. It made it easier to compare and contrast, to experience the emotions Scott was trying to evoke in her readers.
These characters were multi-dimensional. They both grew and changed as the story progressed.
Casey Coffeld is the definition of book boyfriend. A manwhore reformed by Murphy Sullivan, he is sweet, kind, romantic, slightly broken and determined to be successful. His father was a man who wanted things his way, he was controlling and ran his household with perfection and high expectations. If you were not following the path he laid out for you, you were a failure. Casey didn't want to be an engineer for his father, he wanted to work in the music industry. He was talented and good at what he did. But to his father, dreams were frivolous. you worked hard and provided for your family. Being a dreamer and creative went against this structured lifestyle. Casey was the outcast, the black sheep, and his father never allowed him to forget.
❝My mental list of defects is so long that I forget the old ones to make room for the recent ones.❞
Murphy Sullivan is cautious. She is meek. She is the girl next door who goes unnoticed throughout high school. The one, who if you would have taken the time to get to know, would have been the popular girl because of her witty comebacks and genuine personality. Murphy is also a wickedly talented singer/songwriter. Her family is loving and wildly supportive of her. "In Your Dreams, Casey Coffeld" becomes the catalyst for her career.
When Casey hears the song named after him, he knows two things, 1) He doesn't remember this girl. 2) He sees a star waiting to shine. What he hadn't anticipated was spending time with Murphy would make him want more than a working relationship.
❝Any other girl, some other place and time, and I would be switching gears right now, capitalizing, because I always get the girl. I just don't always keep the girl.


But Murphy…she's a keep kind of girl.❞
Murphy helps Casey want to be a better man. Casey provides strength to Murphy, helping her battle back those things that cripple her.
When tragedy strikes Casey's family, he realizes while he may be different from his father, he still holds some of his beliefs.
❝But I'm supposed to be here. And today, I've discovered my purpose.

I will do this so my mother and sisters don't have to.❞
Secondary characters were not there only for support.
They provided strength and a solid base to this realistic plot.
Lane was spectacularly written. He was sweet and endearing and just so loveable.
Houston and his family have "adopted" Casey. They are terrific. Houston has brotherly patience and love for Casey.
❝Everyone spoils you," Houston says,

 … he's right–everyone spoils me. Except for the people who made me.❞
4.5 Stars?
But, you loved it, so why not 5 stars, you ask? One thing… the ending. I felt it was a bit abrupt and I simply wanted more. There is a bit of a time jump and I liked these characters and their story so much, I wanted to know what happened during that time, as well, I wanted to know … more. An Epilogue, perhaps? I'm not sure. I just know I really enjoyed their story and wasn't ready for it to end.
The steam level was low, and I was prepared to lend this to my 19-year-old daughter, until that one scene and, yeah, I decided against it. #awkward lol
THE FALLING SERIES
This is Falling (Falling #1)
Goodreads: http://bit.ly/1nDJtkU
Amazon: http://amzn.to/1TSyi6w
iBooks:  http://apple.co/1TBj5pT
Barnes & Noble:  http://bit.ly/1XkhyqS
Kobo:  http://bit.ly/210gB6c
Google Play:  http://bit.ly/1REIHfH
You and Everything After (Falling #2)
Goodreads: http://bit.ly/2270SW9
Amazon: http://amzn.to/1TSyi6w
iBooks:  http://apple.co/1TBj5pT
Barnes & Noble:  http://bit.ly/1o7rSCN
Kobo:  http://bit.ly/1UZqBdL
Google Play:  http://bit.ly/1RVyNc2
The Girl I Was Before (Falling #3)
Goodreads: http://bit.ly/1dNd2fv
Amazon: http://amzn.to/1WeMXGn
iBooks:  http://apple.co/1TBj5pT
Barnes & Noble:  http://bit.ly/1MvPO9o
Kobo:  http://bit.ly/1SH4RCR
Google Play: http://bit.ly/1pChbJb
Related Posts